2017/2018 Happy Endings! When one of our lucky cats gets adopted into a loving "forever" home, we celebrate it by showing them off here.
---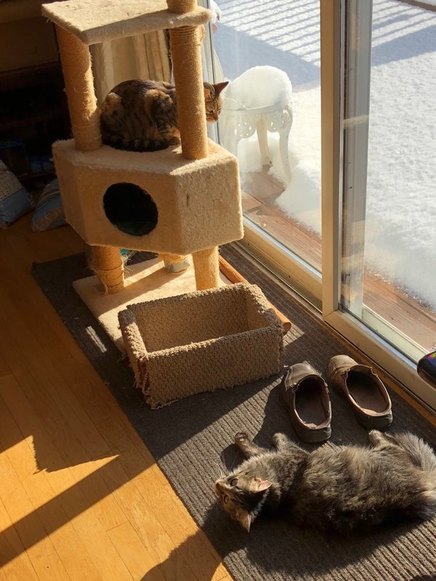 Teresa and Pixie are together in their new home!!
​2018

Hi Darlene and Helen!

We thought you would enjoy some pics of Pixie and Hugz! As you can see, they have made themselves right at home. Each kitty has their special place they like to claim as their own. But they also have shared places like the coach and cat tree. The girls are getting along and each have their favorite human. As for food, they are enjoying that too, slowly filling out on both wet and dry meals. Thank you so much for giving us this opportunity to provide a forever home to these two beautiful, loving, precious kitties. They have filled our home again with joy and happiness. We are sure this love will last a long time!

Sincerely,

Ida and Daniel

---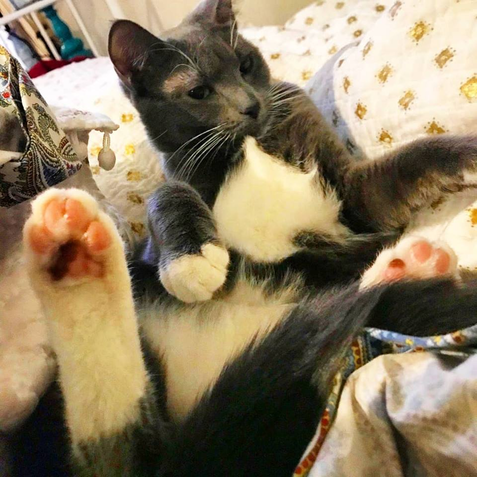 Hello Hilltop! and Helen specifically!
Just wanted to check in and tell you that ​Duchess is adjusting very well! She loves to play and is such a cuddle bug. We slowly introduced her to my other cat Kirby and they are very civil! They both LOVE the laser pointer and are so similar! even their meows are almost identical! they love treat time and feeding time, and look almost like mother and daughter! My boyfriend and I love her and I think by the end of February they will have developed a loving sisterhood. I cannot thank you enough for bringing this soft little love bug into my life. I will never stop singing Hilltop's praises! I love you guys so much! And Duchess is snuggled up right next to me as i type this!


Best Wishes,
Emily & Andrew 2018
---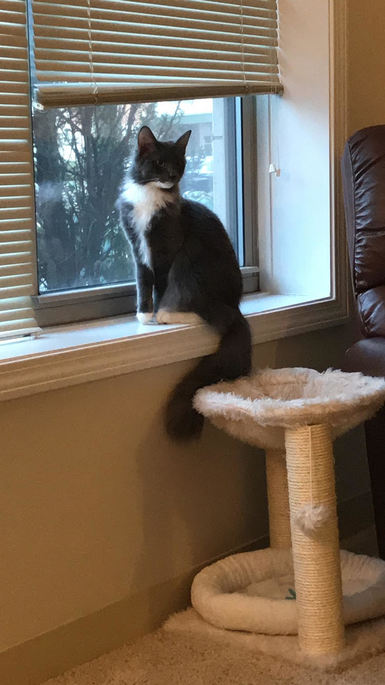 Cooper has found his new best friend!!! 2018
Hi Darlene!
I just wanted to reach out and say thank you again, Cooper is a wonderful cat! He was shy for the first week or so but he's warmed up so much - he's actually laying on my legs right now! Here are some photos for you and Helen
---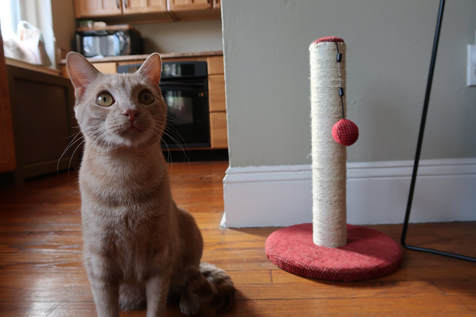 Panos has his forever home!!! 2018

Hi Hilltop,
I just wanted to send you a quick note and say thank you! My husband and I adopted Panos (now named Leo) a couple of weeks ago and are completely in love. He's such a sweetheart! We're so thankful for what Hilltop Humane does and want you to know that your efforts and hard work are very much appreciated.

I'm attaching a few photos​​ of Leo in his fur-ever home! Thanks so much again.

All the best,
Lauren
---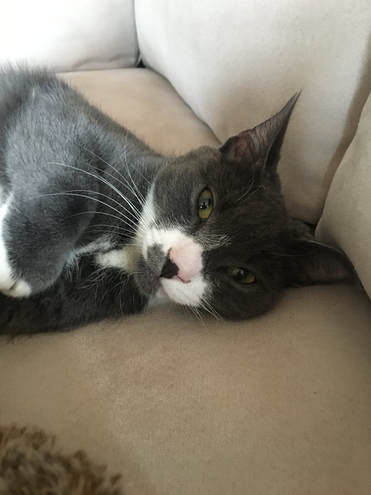 Trina is home with her new mom!! 2018

​Trina (now named CeCe) is an absolute delight :) She spent most of the first day and a half underneath my bed, getting used to the sounds and smells of my apartment. However since then, she has really come out of her shell and loves playing with her new toys and she is very chatty! It isn't unusual for me to wake up with multiple of her toys spread out on my bed in the morning :) She also loves to look out the windows onto the public garden and observe the hustle and bustle of the busy city streets, lay on the sofa on top of her fleece blanket, and getting tons of head rubs and chin scratches! I am so thankful for people at the Hilltop Humane Society who do amazing work in rescuing wonderful animals, like CeCe, and matching them with loving, forever homes!
---
CoCo has a new home!!! 2017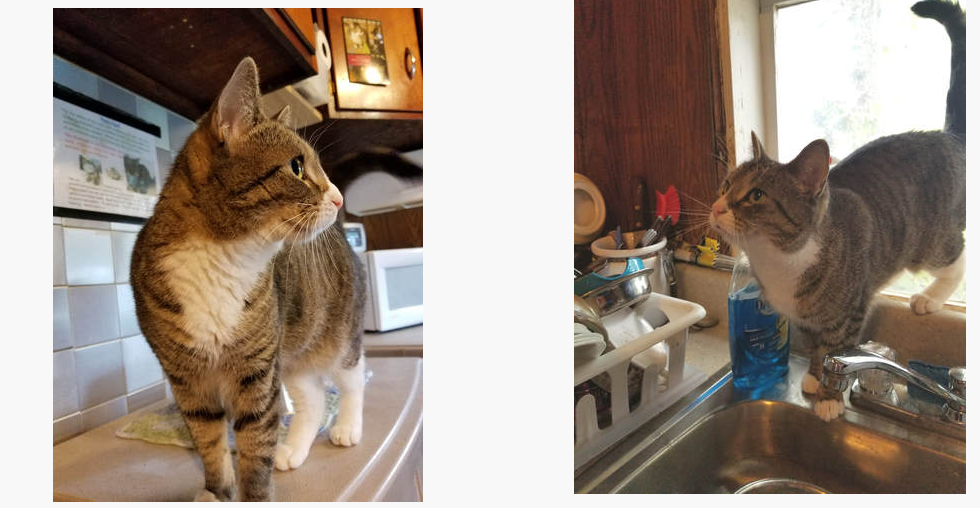 ---
Taylor & Tootsie
are together in their forever home!! 2017
Hi Darlene and Helen,
I just wanted to pass along a happy update on Tootsie and Taylor. They are settling into their new home nicely and are far less anxious than they were those first days. They are always within eyesight of each other and are hysterical to watch when they "hunt" each other. In one of their
2AM
romps, Toostie somehow got shut behind the bathroom door and Taylor sat there meowing so loudly that we got up to see what was wrong. They take good care of each other. They are both so loving and sweet that my mom, who was spending Christmas Eve with us, got up at
5:00
Christmas morning because she wanted some time to snuggle with them before the family got up. They have quite a fan club! They are eating like horses, and I am sure will have put on a pound or two when we take them to their first vet appointment in a couple weeks. The fireplace is still a mystery with all it's noises, smells and heat, but they eventually settle in to enjoy it's warmth. Watching the bird feeders is a constant source of entertainment for them. They are slowly mastering the stairs, which has been funny to watch. We joke that they need helmets!
Attached are a few pictures of their antics.
Anyway, we are so thankful you rescued them and they are forever ours. I wish all the cats happy endings like Tootsie and Taylor. Trina is in our prayers in the hopes she finds a forever home soon too. Happy New Year! - Jen
---
---
---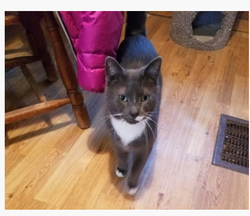 Anthony has a new home!!! 2017
---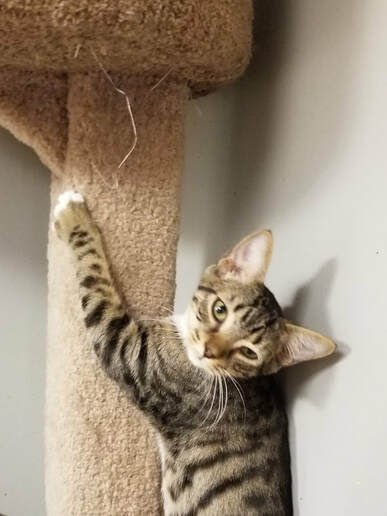 Lil Boy has a new home!!! 2017
---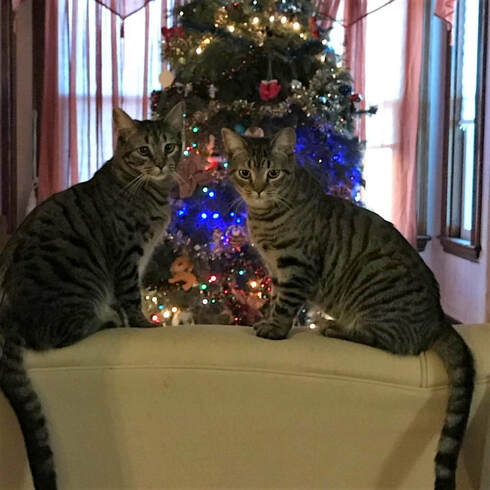 Sylvester and Stalone have been adopted together!!! 2017
---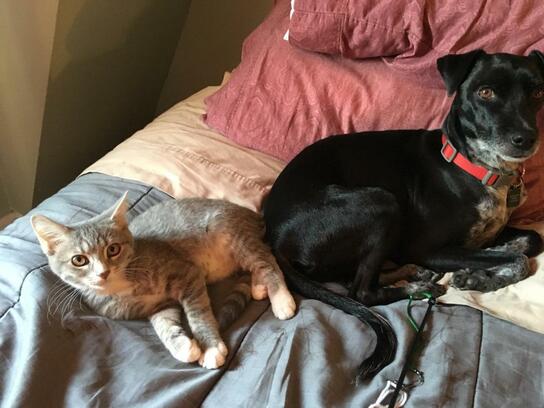 Navin, (now Steve), has been adopted!!!
​ One day on the web :) 2017
---
---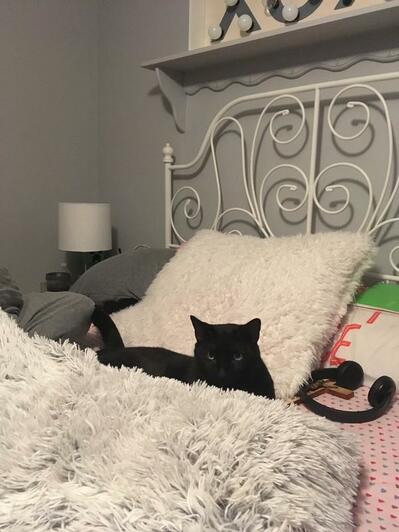 All Night was adopted!!! 2017
---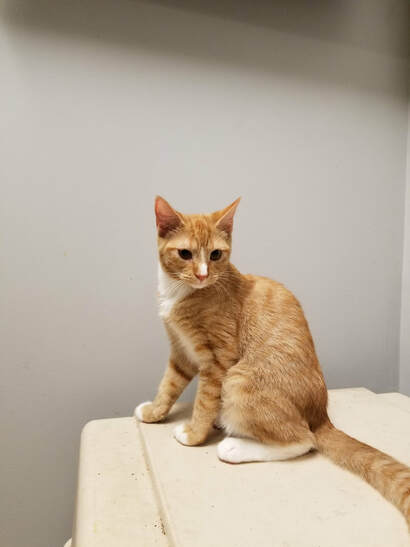 Sunny has been adopted! 2017
---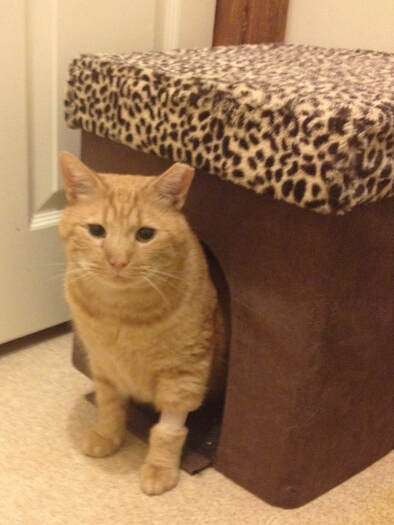 Tommy was adopted by one of our wonderful volunteers. He is very happy! 2017
---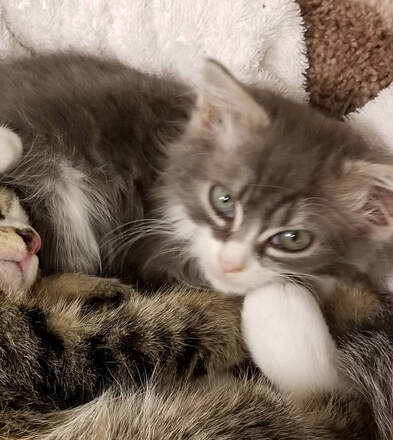 ​Hoot is extremely blessed! He was born with a bad heart and it stunt his growth. While at the vets for a echo cardiogram​, he met his mom! The vet tech at the cardiologist fell in love with him. What better mom could he have!! 2017
---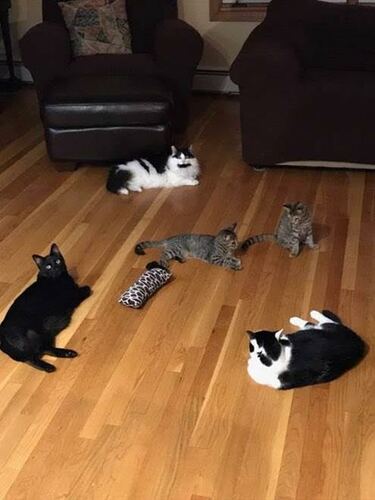 Denali and Nevada feel safe in there new home with their 3 new body guards! 2017
---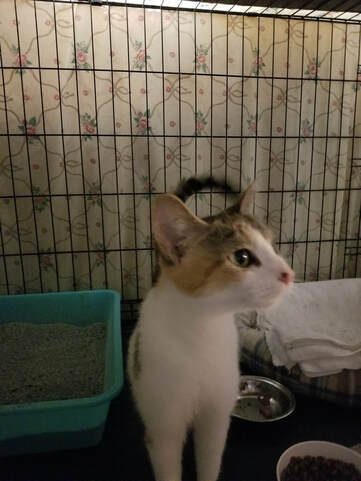 Patches... I've been adopted!! 2017
---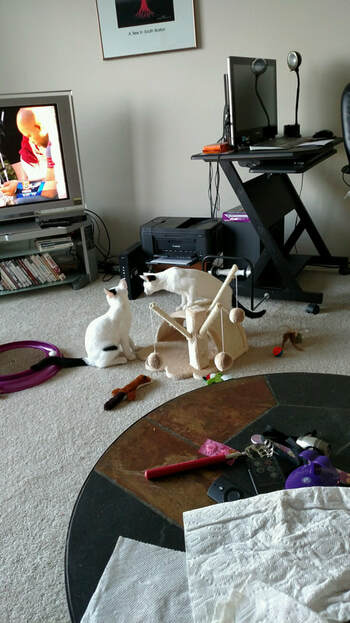 Mel and Lori have been adopted together!! 2017
---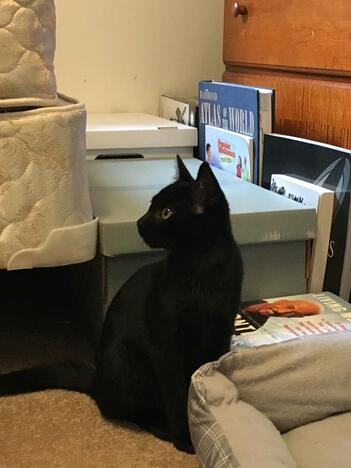 Dakota was one of 5 kittens we trapped and was adopted by the loving person who called us about these poor babies outside on their own. 2017
---
Rob was adopted by the wonderful man who called Hilltop about kittens in his yard! Thank you! 2017
---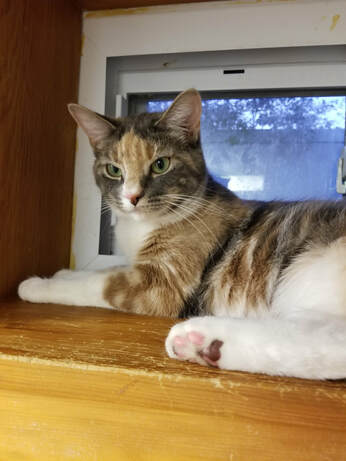 Ty..... I've been adopted! 2017
---
---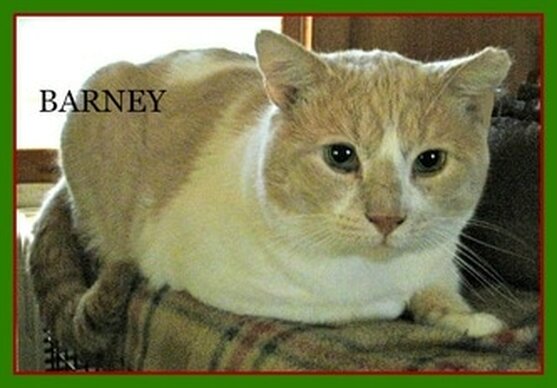 Barney has been adopted!!! 2017
---