WELCOME TO HILLTOP HUMANE SOCIETY!


The love for a cat...

















President Barbara Finney had a special relationship with Hannah, the spunky little tabby with crippled hind legs, that was a beloved resident at the Hilltop shelter for nearly 18 years before she crossed the Rainbow Bridge in 2013.

---

Rescuing, fostering and placing cats in loving homes on the south shore of Boston since 1965
--------------
RELIABLE VOLUNTEERS ARE NEEDED!!
If you love cats and are willing to help care for them at the shelter while they await for their forever homes, PLEASE contact us for details!!!

Foster families are ALWAYS needed! Open up your home to a beautiful cat or kitten[s] and keep them warm and happy while they await a forever home!


And who knows, perhaps you'll fall in love.. :)

---
UPCOMING EVENTS
On any Tuesday in December, print and bring this flyer to Not Your Average Joe's in Randolph, MA. We get 15% of your purchase when this flyer is given to your waiter or waitress. Enjoy a lovely dinner and help out our shelter!

---

Hilltop will have a table at the craft fair at Weymouth High School in Weymouth, MA. The fair is on December 6th, 2014, from 9AM-3PM. Please visit and buy some cute kitty crafts!

---
---
T-SHIRT FUNDRAISER!
"Help control the pet population. Have your pets spayed or neutered." - Bob Barker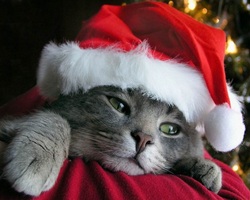 The
Catmobile
has slots available for spay/neuter for your cat! Don't delay! Get your kitty fixed and help end cat overpopulation in our shelters in MA.
For information about dates or locations or to make an online reservation please go to
www.catmobile.org
or call (
978) 465-1940
. The cost is $100 for a female cat and $80 for male. Ferals are done for $35. For questions email
catmobile@mrfrs.org
.
---
Come to our Petco adoption days! Meet some of our beautiful cats in person that are up for adoption, fill out an adoption application, speak to a Hilltop volunteer, ask questions, etc.
2015 dates will be posted soon!


Our adoption days are at the Avon Petco on Stockwell Dr.



Information on low-cost spaying/neutering can be found on our Adopt/Foster page.

---

SENIORS FOR SENIORS
The goal of this program is to match senior cats with senior adults. When you find your happy, healthy friend, we waive the adoption fee so that you can both enjoy as much time together as possible without worrying about the cost. Contact us for more details!